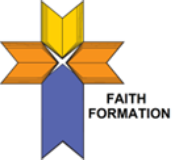 The Parish Community of Saint Cecilia seeks to live Christ's example through prayer, worship, education, and service. Involvement of children and youth of the parish features these same directions in a variety of ways, such as family activities, family liturgy, scouting and CYO basketball as a few examples. Religious education is a key part of introducing our youngest parishioners to not only knowing about our faith, but living it. Faith Formation in our parish is led by Rosemary Oldread (This email address is being protected from spambots. You need JavaScript enabled to view it. or 596-4232, x113). The Weekly Bulletin provides information about Faith Formation activities.
Faith Formation registration is now open! We are looking forward to another great year, having all of our friends meet together. Classes will begin in the fall for grades 1 thru 11 and will be held here at St. Cecilia's. Registration forms are available on our website: www.saintceciliawilbraham.org<http://www.saintceciliawilbraham.org> under the Faith Formation tab. Forms are also available in the rotunda after Mass. Please look for either a new student form or a form to re-register you student. Contact Rosemary Oldread with any questions or for more information: This email address is being protected from spambots. You need JavaScript enabled to view it. or at 413-596-4232 ext 113.
VISIT OUR FACEBOOK PAGE - Click the link below


FAITH FORMATION GRADES 1-6
Our Faith Formation program grades 1 through 6 uses the We Believe curriculum by Sadlier. Classes are held at St. Cecilia's on Mondays at 4:00 to 5:00. The year runs from September to April. Additionally, we expect the students and their families to take part in our family Liturgy at 9:30 on Sunday mornings.
FAITH FORMATION GRADES 7-11
GRADES 7 AND 8 REACHOUT PROGRAM
The Reachout students attend 4:00 PM Mass usually one Saturday of the month then go directly to class. We use the Pflaum Gospel booklet program which follows what they just heard in Mass. In addition to Mass/class, the students also must complete 5 Reachout projects. These service projects are organized by the teachers and include a wide variety of volunteering opportunities with the goal of creating a greater understanding of service work. Additional classes include: Penance Services, Stations of the Cross and Adoration.
GRADE 9
For this grade we use TEEN TIMELINE, a faith journey through the bible. Each month the students will participate in a video presentation followed by a small discussion group. We meet on the first Tuesday of the month from 6:00-7:15 PM. All classes are held in the Parish Center.
GRADES 10 AND 11- CONFIRMATION PREPARATION
These two years are preparing for Confirmation. A faith based topic will be presented each month; activities and discussions will follow the presentation. Guest speakers will be included throughout the program. Please note that 10th grade meets the first Sunday of the month from 4:30-6:00 PM and 11th grade meets from 6:15-7:45 PM in the Parish Center.
Confirmation is held in the spring of 11th grade. The date is usually set in the fall. Confirmation paperwork is posted on the website as well as handed out in the spring of 10th grade. Twenty hours of community service is required and details are discussed in class.