Anointing of the Sick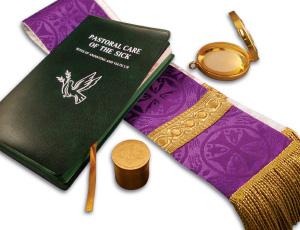 The Sacrament of the Anointing of the Sick is offered on the first Sunday of the month in the Church at 12:00 PM. (From Memorial Day through Labor Day, it will be offered at 11:00 AM.) Many years ago, this sacrament was called Extreme Unction and was conferred almost exclusively on those who were at the point of death. The Second Vatican Council wanted to remedy this situation. Today the use of the sacrament is broader. Anyone who is seriously ill, but not necessarily in danger of death is encouraged to receive this special Sacrament. A parishioner may also call for an appointment.
More has changed than the sacrament's name:
This sacrament is a community celebration. The care and concern of the community is a sign to the sick person of the Lord's own concern for our bodily and spiritual welfare. We are to be a Church of healing and reconciliation. The celebration of the Sacrament of the Anointing of the Sick is a ritual moment which makes visible and present to the sick and the whole community an image of who we are as a Church, that is, a community of mutual healing and support.
Sickness involves more than bodily illness. The Anointing of the Sick is a different kind of healing. It offers grace that touches body, soul and spirit. Up until recent years, we thought of "sickness" exclusively in times of bodily illness. Now we are more aware of the holistic nature of health.
Anointing heals us through faith. Through the Anointing of the Sick, the person is strengthened and provided with the strongest means of support. The sacrament gives the grace of the Holy Spirit to those who are sick. Thus the whole person is helped and sustained by trust in God. The principal effect of the sacrament is to give comfort, peace, and courage to those facing serious illness or the frailty of aging.
Anyone is invited:
Who is seriously ill with prolonged, chronic illness or disease (heart, cancer, respiratory ailments, diabetes, etc.)
Who is suffering with the disease of alcoholism or other addictions
Who is facing exploratory surgery with its uncertainty and anxiety
Who is experiencing aging with its limitations, fears, and isolation
We can receive this sacrament throughout our lives when we are in need of the Lord's healing and strength. The community's role is to pray along with those who need the healing power of the Lord and the Church. This sacrament reminds us of the frailty of human life and the care and support we give to one another as part of a praying community.