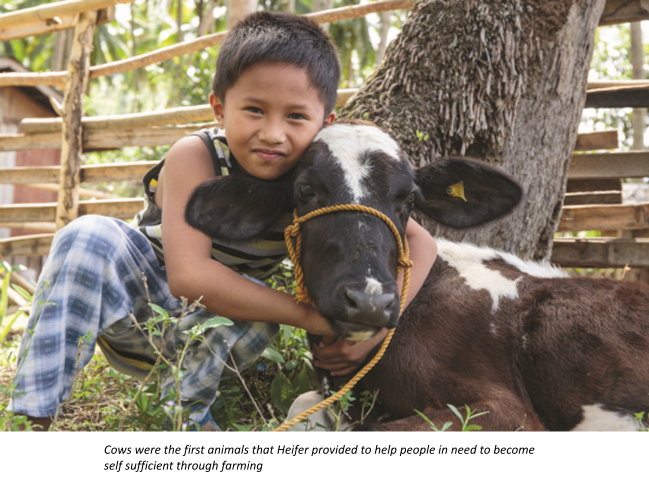 Heifer International is a non-profit organization that was founded in 1946 by Dan West, a Midwesterner who helped distribute food to the destitute during the Spanish Civil War. His goal was to help people become self-sustaining. Cows were the first animals that Heifer provided, later adding 30 more, as well as worms, fish and trees, which are sent to 50 different countries, including the United States.
We provide financial resources to Heifer International who in-turn supplies livestock, trees and training to needy families so they can become self-sufficient through farming. St Cecilia has a "living gift market" every Advent to collect money for Heifer. It's also called alternative gift-giving, because donations are made to honor a family member, friend or coworker by giving in their honor the gift of a living animal that will help a struggling family become self-sustaining. A beautiful card lets the honoree know that this gift was given in their name and also explains the purpose and how Heifer works.
For as little as $10, a share of an animal can be purchased to honor the recipient and help a struggling family.
One of the most important elements of Heifer is the requirement called "Passing on the Gift". Each recipient of an animal must agree to pass on the first female offspring of their animal to another needy family in their village. This creates a rippling effect that continues on for many generations of animals, creating an environment of caring and sharing. Another important aspect is gender equity. When families are selected to receive Heifer animals, both men and women must receive training and be part of the decision-making. The purpose of the animal is to make a family sustainable by using the animal byproducts to generate income, as well as, improving their own family's nutrition.
Heifer, recognized by Worth magazine as one of America's top 100 charities, works in partnership with other non-profits such as Rotary International and The Bill & Melinda Gates Foundation, where Heifer provides the animals and these other organizations help with improvements in housing, well digging and sanitation issues.
If you have questions about this Ministry or have an interest in volunteering at the Heifer table in the rotunda during Advent from December 7–22, 2019 contact Mary Manning at 949-1468.

Some of the many types of animals Heifer International provides people in order to help make them self-sufficient.