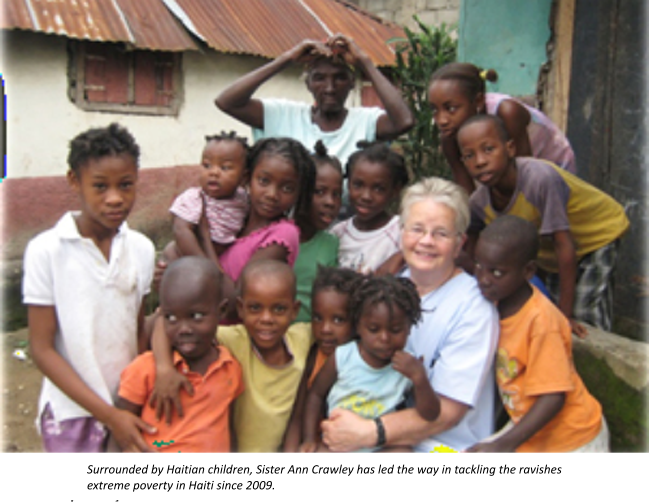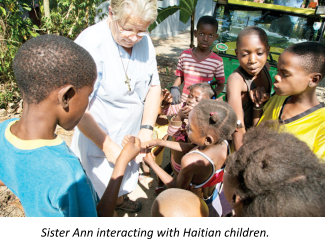 The HOPE Haiti ministry was introduced to St. Cecilia Church through parishioner, Dr. Peter Kelly, an eye physician and surgeon who has volunteered his medical services at Hôpital Sacré Couer in Milot, Haiti for over 20 years! Many parishioners have also visited and volunteered at Hôpital Sacré Coeur over the years. During this time, a strong relationship was established with Sister Ann Crawley who developed an outreach program that provides food, shelter and education to Haitians. She resides in a convent at Hôpital Sacré Coeur.
Sister Ann has been instrumental in ministering to the poor people of Haiti since 2009. Many school aged children now attend school because Sister Ann has provided them the necessary books, school uniforms and supplies. She hikes up steep mountain paths to help the Hatians living in rural villages and provides them rice and bean packets. Sister Ann has been a leader in securing sustainable housing especially for those that lost everything in the devastating hurricanes. She is a kind and gentle soul whose mission is to provide for those less fortunate in Haiti.
Through the generous support from St. Cecilia parishioners, we have been able to support Sister Ann and her programs. We have been able to fund a pediatric nurse's salary at the hospital for the past 6 years. $6,000 pays the salary for a pediatric nurse for an ENTIRE year! We have donated school supplies, provided school uniforms, and contributed to the rice and bean program. We have been extremely successful in our HOMES for Haiti annual fundraiser that has provided sustainable housing for many needy Haitian families. The 2020 Haiti fundraiser at St. Cecilia is scheduled for March 14/15, 21/22 and 28/29.
There is a Haitian proverb that says "Men anpil chay pa lou" – Many hands make the load lighter. With your continued generous support you ensure that Hôpital Sacré Coeur and Sister Ann stand ready to change the lives of hundreds of impoverished Haitians for generations to come.
As of May 2019, St. Cecilia Parish has sponsored the building of 16 sustainable homes in Haiti. Thank you for your generous support.
For more information, contact Kathy Fuss at 596-6296 or Katy Reed at 596-5308.