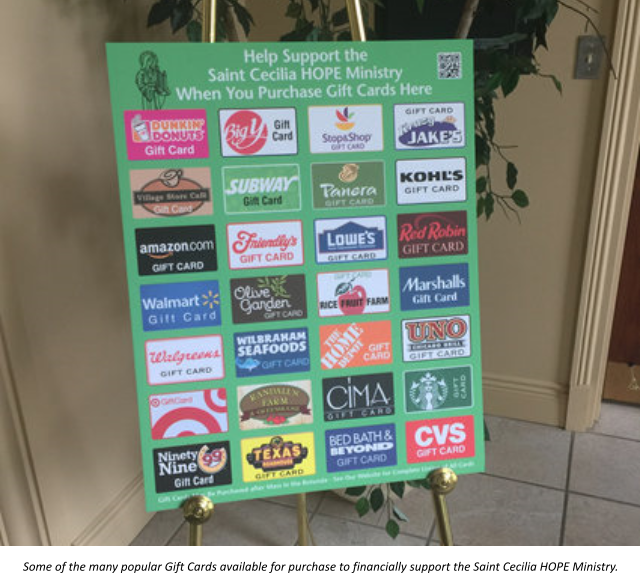 In order to financially support our HOPE Ministries, we make available for purchase various Gift Cards to parishioners and friends. Each time you purchase a Gift Card, we receive a commission from that retailer/merchant and there's ABSOLUTELY NO ADDED COST TO YOU. This enables us to provide the much needed support to those in need. Commissions received from Gift Cards is one of our primary sources of income. Thanks to you, our Parish has contributed $195,268 in gift card commissions to various HOPE Ministries since 2005.
Gift Cards, which are valid for 7 years, are a convenient and practical gift for someone who has everything, especially seniors or homebound relatives, friends, or neighbors. They're great for:
*Christmas
*Easter
*Thanksgiving
*Valentine's Day
*Mother's Day
*Father's Day
*Grandparent's Day
*Any Holiday
*Weddings
*Baptisms
*Birthdays
*Anniversaries
*Graduations
*Special Events
*Thank You's
*Get Well
*We Miss You
*And For Your Everyday Grocery Shopping!!!

Here is a list of all current merchants who participate in our gift card program. This list may be updated so please check back. Merchants highlighted in red support the HOPE Ministry by giving us a generous 20% commission!
Hungry?
Big Y ($25 & $100)
Stop & Shop ($25 & $100)
Randall's Farm ($25)


Rice's Farm ($25)




Village Store ($25)


WaWa ($25)


Cima ($25)


Dunkin ($10)
Friendly's ($25)
Krazy Jake's ($25)
Delaney's Market ($25)

99 Restaurant ($25)
Olive Garden ($25)
Panera Bread ($10)


Red Robin ($25)


Ruby Tuesday's ($25)
Starbucks ($10)
Subway ($10)


Texas Roadhouse ($25)


Uno's ($25)
Wendy's ($10)


Wilbraham Seafood ($25)

Other Merchants
Amazon ($25 & $100)
American Eagle ($25)
Bath & Body Works ($25)
Bed, Bath, & Beyond ($25)
CVS ($25)
Home Depot ($25 & $100)
Kohl's ($25)
Lowes ($25)
Marshall's/TJ Max ($25)
Target ($25)
Walgreens ($25)
Walmart/Sam's ($25 & $100)

Good News! The Gift Card Program is about to start up again with new protocols to keep everyone safe and allow us to continue fundraising to support our HOPE Ministries. Our HOPE Ministry gift card program has been active in our parish from 2006 thru the start of 2020, raising much needed funds for The Indian Orchard Survival Center, Bethlehem House, HOPE at Home for emergency needs of our parishioners, Heifer International and Haiti's, Hospital Sacre Coeur.
This is the plan approved by Father John:

Order forms will be available in the Rotunda. (To get you started there is an order form on the reverse side of this sheet.)

Place your filled out order form and check made out to St Cecilia Gift Card Program in the designated box in the rotunda near the entrance.

Please include your phone# in case there are questions.




Your order will be placed in an individual envelope and will be available the next weekend following mass.

Orders can be picked up in the social center following mass, where socially distancing protocols will be in place, i.e.. masks, gloves for those distributing the envelopes and 6 feet distancing at pick up.

To ensure everyone's safety, for the current time, only orders placed following this protocol will be filled. NO shopping cards can be spontaneously sold at the table during pickup time.

Hopefully, with your help and understanding, we will once again be able to raise funds from the sale of shopping cards, especially during the Christmas Holiday, when our sales are at their peak. Remember that ALL our profits go to the charitable work of our HOPE Ministries!


Click here to download an order form

To order your gift cards, simply fill out an order form (click here to download one), bring cash or check (made payable to St. Cecilia Gift Card Program) and bring to the Gift Card Table in the rotunda after Mass. Most gift cards can be picked up at the same time.

If you have any questions, contact John Gilbertie 847-3415
or email: This email address is being protected from spambots. You need JavaScript enabled to view it.



Thank you for your support!