Community Survival Center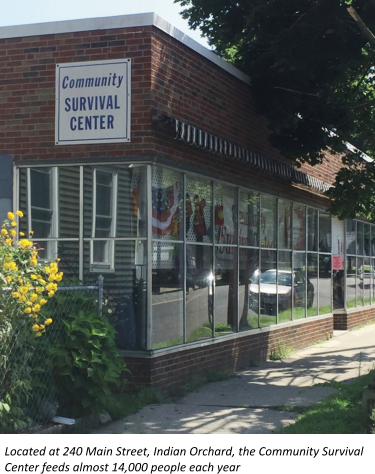 The Community Survival Center is a non-profit agency (501-C-3) whose primary mission is to provide survival items like food, clothing and household goods to members of our community in their time of need.
The HOPE Ministry has been supporting the Community Survival Center since 2005 with various programs including providing annual financial assistance to help sustain their Senior Nutritional Program.
In addition, our Parish coordinates monthly food collections throughout the year to help feed the nearly 14,000 men, women and children in Wilbraham, Hampden, Ludlow, Indian Orchard, Sixteen Acres and Pine Point who depend on the Center for necessary assistance.
Our Saint Cecilia Knights of Columbus Council also sponsors an annual dinner fundraiser in the Parish Center. Later this year they're planning a German style October Fest under a courtyard tent, complete with a live German band, dancing and local craft breweries. Save the Date: Saturday October 13, 2018 at 5:00 pm.
Each fall, our parishioners donate a variety of school supplies to the Survival Center to help fill children's backpacks which otherwise may not contain some of the necessary items like pencils, markers, pads, and paper.
The Community Survival Center also provides Emergency Food, Preschool and Senior Outreach programs as well as a Thrift Shop for clothing and household essentials for anyone who is having a difficult time in making ends meet. For more information about the Community Survival Center and opportunities to volunteer, contact them at www.CommunitySurvivalCenter.org
For more information about this HOPE Ministry, or to simply volunteer, email Rose Chapman at This email address is being protected from spambots. You need JavaScript enabled to view it.